My first Halloween themed school lunch was made this week! Thanks to Cost Plus World Market, I'm armed with couple of themed foods for this Halloween season. This week I used their 'Fright Bites' which are colored tortilla chips shaped like pumpkins, bats, and ghosts. The girls LOVED them! I also grabbed some mandarin oranges at Trader Joe's and made a jack-o-lantern face on one.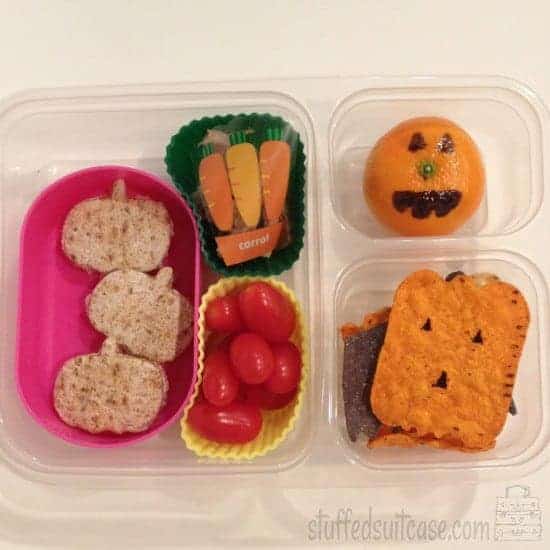 Adding lunch box notes is something I do occasionally (I normally use these Lunchbox Love Notes for Kids by Say Please
), and I've now found these great Halloween Lunch Box Jokes at Capturing Joy with Kristen Duke. I can't wait to use these in the upcoming lunches. I also have another fun Halloween food item I found at World Market that I plan on using in some of my upcoming lunches.
Week 6 Kid's School Lunches
(starting top right corner moving around to bottom left corner)
Monday: chicken noodle soup, edamame, carrots & peapods, mandarin oranges
Tuesday: turkey slice rollups, colby-jack cheese stick, go-squeeze applesauce, carrots, multigrain crackers
Wednesday: meatballs with spaghetti sauce (leftovers), garlic bread (oops, didn't wrap it and got soggy – girls didn't like that!), peas, apple sauce
Thursday: hardboiled egg, cheese wedge, thin breadsticks, mini cucumber slices, mini apple
Friday: ham & cream cheese sandwiches on flatbread, turkey bits (under carrot paper), sugar plum tomatoes, mandarin orange pumpkin, World Market Fright Bites chips
Items used:
Rubbermaid 1866738 LunchBlox Kid's Tall Lunch Box Kit, Purple/Pink/Green

Thermos Foogo Leak-Proof Stainless Steel 10-Ounce Food Jar, Pink

The Pampered Chef Creative Cutters Set #1095

My Link Parties